Calendar
Show time 7:30pm, 3rd Thursday of each month. Tickets $10.00 at the door.
Chinese Bunkhouse
Britannia Shipyard, 5180 Westwater Drive, Steveston BC
Click HERE for a map of the location.
Thursday August 17th Chinese Bunkhouse at Britannia Shipyard
"Greg Meloche" Show time 7:30 pm

"Let me tell you a story"...
Great stories make great songs and great songs are always great stories. A consummate storyteller, Greg performs original compositions and songs combed from the music genres from maritime, folk, country, and pop-rock for the stories that last. With a sense of humour and a flair for the ironic, Greg has many tales to tell of life's themes of love, work and play. Combining acoustic guitar and bodhran (Celtic drum) with the deep, smooth voice of a troubadour somewhere between Stan Rogers and Roger Whittaker, Greg makes takes you to other times and other ways of seeing the everyday. Come to hear some familiar favourites and discover some you will want to hear again and again. Music to make you cry, laugh and think, expect the weird and the wonderful when Greg takes the stage.
Thursday September 21st. Chinese Bunkhouse at Britannia Shipyard
"Charlotte Wrinch" Show time 7:30 pm

Charlotte Wrinch is a singer-songwriter and recording artist living on the Sunshine Coast. A multi instrumentalist, she plays acoustic guitar and a collection of recorders and penny whistles. Charlotte performs at many of the festivals and live music venues on the coast.
Her studio album, "Kiss The Ground" is receiving airplay on college, community and internet stations across North America and as far away as India and Brisbane, Australia. "Kiss The Ground" has received airplay as part of CBC's Radio 1 and Radio 2. She has appeared on Coast Cable TV, and has been featured as the cover story for Sunstream Magazine. Just recently Mediazoic featured Charlotte as their Unsigned Indie Artist of the Week, and her album has been making the Top 10 charts at CFBX and other campus stations. Her style has been compared to Blossom Dearie, Joni Mitchell, Nanci Griffith, Astrid Gilberto and Feist.
Charlotte's most recent project is the release of a music video single entitled "Oh Canada" - yes, same name, but completely different song. Oh Canada (aka O Canada), is an original song about all things Canadian. Lighthearted in tone, it highlights our accomplishments, political policy, natural beauty, cultural diversity, our humility and kindness, and our down-to-earth, easy-going nature.
October 19th. - Chinese Bunkhouse at the Britannia Shipyard
"Ross Douglas"
"Ross Douglas heard the Beatles late one night and that was it."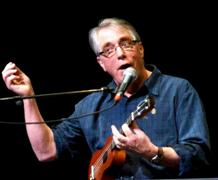 Initially drawn to theatre, Ross played piano in the satirical band The Choke Sisters, fronted by future multiple Tony Award-winner Des McAnuff. He played "Brad Majors" in the first ever Canadian stage production of the ROCKY HORROR SHOW and for 3 years saw much of the world as piano player/narrator in the second-ever cast of the seminal BILLY BISHOP GOES TO WAR. He was in the original Vancouver production ANGRY HOUSEWIVES for which he also received a Jessie Award for "Outstanding Musical direction". Then a lot of songwriting kicked in. Next came 8 winters as musician, writer and musical director of the very popular Willie and the Wassailers, and 9 summers as writer, musical director and performer at Theatre Royal in Barkerville, BC. His song "Lovin Time" was Runner up in the Jazz category of the John Lennon Song Contest and he was Special Jury Award winner in the Mid Atlantic Song Contest for the song Kokanee Canary Canoe. Ross has also been Folk Alley's "Folk Artist of the Month". He also was a semi finalist in the 2017 Great Canadian Song Contest! Ross has 4 cd's of original songs to his credit and more to come down the chute. This will be a fine show, so don't be late.