Calendar
Show time 7:30pm, 3rd Thursday of each month. Tickets $10.00 at the door.
Chinese Bunkhouse
Britannia Shipyard, 5180 Westwater Drive, Steveston BC
Click HERE for a map of the location.
October 19th. - Chinese Bunkhouse at the Britannia Shipyard
"Ross Douglas"
"Ross Douglas heard the Beatles late one night and that was it."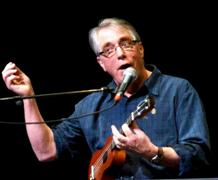 Initially drawn to theatre, Ross played piano in the satirical band The Choke Sisters, fronted by future multiple Tony Award-winner Des McAnuff. He played "Brad Majors" in the first ever Canadian stage production of the ROCKY HORROR SHOW and for 3 years saw much of the world as piano player/narrator in the second-ever cast of the seminal BILLY BISHOP GOES TO WAR. He was in the original Vancouver production ANGRY HOUSEWIVES for which he also received a Jessie Award for "Outstanding Musical direction". Then a lot of songwriting kicked in. Next came 8 winters as musician, writer and musical director of the very popular Willie and the Wassailers, and 9 summers as writer, musical director and performer at Theatre Royal in Barkerville, BC. His song "Lovin Time" was Runner up in the Jazz category of the John Lennon Song Contest and he was Special Jury Award winner in the Mid Atlantic Song Contest for the song Kokanee Canary Canoe. Ross has also been Folk Alley's "Folk Artist of the Month". He also was a semi finalist in the 2017 Great Canadian Song Contest! Ross has 4 cd's of original songs to his credit and more to come down the chute. This will be a fine show, so don't be late.
November 16th. - Chinese Bunkhouse at the Britannia Shipyard
"Alvin and Carol-Lynn"
Welcome Alvin and Carol-Lynn

This duo's first performance at the folk guild last year left them and the audience blown away, and eager to come back. SFG is pleased to announce their return as feature performers again. They had finally found a venue where they could play folk music and have an attentive audience. Alvin and Carol-Lynn met while in high school and discovered their musical interests were very similar, and are excited to be able to play their brand of "folk music" at SFG.
This duo with their eclectic tastes, have collaborated on many endeavors, most notably playing regularly at several non-profit organizations, and their reputation is rapidly rising.
Come hear Alvin's fine guitar playing and Carol-Lynn's crystal clear voice. Alvin and Carol-Lynn are very excited to be back at the folk guild to share some of their favorite acoustic tunes and bad jokes with all of you