Thurs February 21st. - Chinese Bunkhouse at Britannia Shipyard
Jana Seale" Showtime 7.30pm
Mesmerizing audiences from all over the world with her unique and gentle style, West Coast Canadian Jana Seale has been a featured guest artist aboard luxury cruise lines since April 2006. Jana makes her home in Chilliwack BC, and can be found performing throughout Southern BC and into Washington State, when not temporarily "lost at sea".
Jana's evocative delivery returns to the roots of the solo performer, reminiscent of Joni Mitchell, Joan Baez, and the coffeehouses of times gone by. Inspired by open tuning troubadour Nanci Griffith, and Eva Cassidy"s simple elegant guitar arrangements, Jana performs with warm, understated finger style guitar. But it"s her multifaceted voice that captivates her audience night after night.
A song list of well over 450 songs includes acoustic singer/songwriters from the 60's to today, with a variety of pop, soft rock, country, Celtic and jazz.
Jana's five cd's have travelled home with fans around the world, and tracks from both her 2006 debut "Jana Seale" and her 2008 "Temporarily lost at Sea", have played on Canadian radio stations including CBC Vancouver and Edmonton's CKUA.
Thurs March 21st. - Chinese Bunkhouse at Britannia Shipyard
"John Bowman" Showtime 7.30pm
I first heard John play and sing at a recent Ranj Sing concert and was struck by his great voice and wordpower, You are going to love this guy.
John Bowman is a singer/songwriter based in Port Moody, British Columbia, Canada. John is a veteran guitar player, who uses a finger-picking style of playing. He writes songs in the genres of singer-songwriter, folk, and blues.
John has released three CDs, "Beach on the Ocean" in 2011 and "Alone on a Saturday Night" in 2013 and "Tourist Town" in 2016. John's musical influences include James Taylor, Harry Chapin, Bruce Springsteen and Jackson Brown. John is currently in the recording studio working on a fourth CD, "Love, Grace and Gratitude", which should be released in February or March, 2019. John is a regular performer at various Farmer's Markets throughout the Lower Mainland. John continues to work at the craft of song writing, co-writing with other songwriters, and providing feedback to help other songwriters.
Thurs April 18th. - Chinese Bunkhouse at Britannia Shipyard
"Ross Douglas" Showtime 7.30pm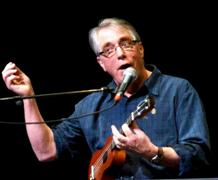 This is one of my favourite performers to SFG. A great time will be had by all.
Ross Douglas is an award winning songwriter and wonderfully entertaining performer..
Initially drawn to theatre, he saw much of the world as Pianist /Narrator in the second-ever cast of the seminal BILLY BISHOP GOES TO WAR, played "Brad Majors" in the first ever Canadian stage production of the ROCKY HORROR SHOW and was in the original Vancouver production of ANGRY HOUSEWIVES, for which he also received a Jessie Award for "Outstanding Musical Direction"
All the while and onwards he was writing - spending 8 years as musician, writer and musical director of the Shakespearean inspired Willie and the Wassailers and 9 years as writer, musical director and performer at Theatre Royal in Barkerville, BC.
This spawned a songwriting output of wonderfully eclectic appeal - 4 albums of original song full of wit,observation and storytelling - which as a solo performer, he delivers with great gusto.
His songs have recieved ever increasing recognition. "Lovin Time" was Runner up in the Jazz category of the John Lennon Song Contest - his uke inspired ditty "Kokanee Canary Canoe" was Special Jury Award winner in the Mid Atlantic Song Contest. His folk laced "Town for Tired People" and "Bougainvillaea Bobby" prompted Folk Alley to name him their "Folk Artist of the Month", and in 2018 his song "Candlelight" placed first in the Open Category of the International Acoustic Music Awards Song Contest. At last count, he has fans in 115 countries and territories around the world