Calendar
Show time 7:30pm, 3rd Thursday of each month. Tickets $10.00 at the door.
Music at the Shipyard concerts start at 6.30pm
Chinese Bunkhouse
Britannia Shipyard, 5180 Westwater Drive, Steveston BC
Click HERE for a map of the location.
Thursday September 15th Chinese Bunkhouse at Britannia Shipyard
"Ranj Singh" Show time 7:30pm
"Ranj returns returns to SFG"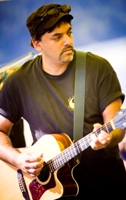 "If world famous Indian ghazal singer Jagjit Singh were to share a hookah with Neil Young, the result would be Indo-Folk Music." Ranj has a long career performing with many folk-Punjabi and Hindi artists in the Vancouver area. In previous years he performed with "Dal Dil Vog" which led to tours of North American and India. The crowd goes wild when the indo beat comes through....be there. Ranj has played the Guild many times with his legendary band The Discriminators. Recently Ranj has returned to music as a solo artist, following his recovery from a serious vehicle collision. He;s stronger than ever and happy to be pursuing his passion for music again, and often collaborates with former band members and musicians to meet the needs of a given venue or event. His new cd "The Man Cold" is out and is full of great new song...you won't be disappointed with this performance.
Thursday October 20th.. Chinese Bunkhouse at Britannia Shipyard
"Don Alder" Show time 7:30pm
"Dynamic guitarist comes to SFG"
As winner of the 2015 Domenic Troiano Guitar Award (CDN), 2011 Worldwide Guitar Idol (held in London, UK), 2010 Guitar Superstar contest (LA, USA) and the 2007 International Fingerstyle Championships, Don Alder has earned his place as one of the top acoustic guitarists in the world and is the only guitarist to win all of the top prestigious guitar competitions armed with just an acoustic guitar. In May 2016 Don was nominated again for a Western Canadian Music Award. His singing is soulful and heartfelt and his story telling and guitar playing is highly entertaining. His music is a unique combination of deeply textured melody and story. Lyrical and compelling, his original songs are notes of exploration -some passionate and haunting, some hard-driven, others light and teasing. In quiet pieces or pushing right to the edge, Don's phenomenal finger style playing and rich voice captivate. Don is also recognized as one of world's top harp guitarists.