Thurs February 20th.. - Chinese Bunkhouse at Britannia Shipyard
"Ranj Singh" Showtime 7.30pm $10 at the door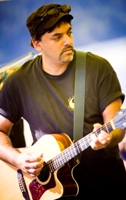 Ranjit "Ranj" Singh makes music with a distinct Indian-Western flair that draws on the singer-songwriter and self-taught guitarist's love for rock music and heartfelt lyrics. He refers to his unique blend of music as "Indo-Canadian Folk".
Ranj recorded a solo album titled "Simple Man" in 2008. He later brought together a group of talented musicians to form his next band, "The Discriminators", with whom he recorded and released 2011's "Found a Way Home". The album delivered thoughtful lyrics and music that were inspired by Ranj's life and his legendary mentors, Neil Young and the late Indian ghazal singer Jagjit Singh.
More recently Ranj has returned to music as a solo artist, following his recovery from a serious vehicle collision. He's stronger than ever and happy to be pursuing his passion for music again, often collaborating with former band members and other talented musicians to meet the needs of a given venue, event, or project.
In 2015 Ranj released his third album, the acoustic "The Man Cold" featuring his signature melodies and distinctive "up-stroke" riffs from his 12-string guitar.
Recent notable performances have included the Harrison Festival of The Arts, Vancouver's Dragon Boat Festival, CBC's Musical Nooners summer concert series, Steveston Folk Guild, the Surrey Fusion Festival, the World Kindness Concert, and sharing the stage with award winning artists like Shari Ulrich and Bill Sample as well as performing at seven hockey games during the Vancouver 2010 Winter Olympics.