Calendar
Show time 7:30 pm, 3rd Thursday of each month. Tickets $10.00 at the door.
Chinese Bunkhouse
Britannia Shipyard, 5180 Westwater Drive, Steveston BC
Click HERE for a map of the location.
Thursday September 20th.- Chinese Bunkhouse at Britannia Shipyard
"Simon Kempston" Showtime 7.30pm
SFG welcomes Simon Kempston, "one of Scotland's best songwriters"(The Sunday Herald) and leading fingerstyle guitarists, performs music is steeped in the history of the folk, blues and celtic traditions and is complemented by Simon's rich, powerful and compelling clipped vocal style.
His unique talent shows through in his thought-provoking, evocative, original songs portrayed in a wonderfully intimate setting. His beautifully crafted folk-tinged material showcases his incredible, distinctive and intricate fingerstyle guitar work - an exciting blend of the folk-baroque, blues and classical styles, and his gently nuanced, compelling tenor vocals.
An inspiring, poetic lyricist, Simon's live performances are intense and impassioned, the subject matter chiefly Scottish, yet with universal appeal. Simon will be playing songs from his latest cd "Vanishing act: and from "Onward she travels". This special Vancouver concert is not to be missed. 'Stunning talent'(STV). 'Beautiful tunes, infinitely talented' (BBC Radio 3).
Thurs October 18th.- Chinese Bunkhouse at Britannia Shipyard
"Ranj Singh" Showtime 7.30pm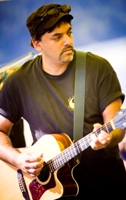 "If world famous Indian ghazal singer Jagjit Singh were to share a hookah with Neil Young, the result would be Indo-Folk Music." In the mid 80's, Ranj started his career performing with many folk-Punjabi and Hindi artists in the Vancouver area. In the 90's he helped form, (along with his talented brothers) the group "Dal Dil Vog" (a.k.a. DDV). This group went on to win numerous awards and performed with artists such as Jan Arden, 54-40, Mathew Good, and also performed live on Much Music. DDV's style of bhangara/rock music led to tours throughout North America, and India, as well as 3 videos on MuchMusic, and one on MTV Asia.
Recent notable performances have included the Harrison Festival of The Arts, Vancouver's Dragon Boat Festival, CBC's Musical Nooners summer concert series, Steveston Folk Guild, the Surrey Fusion Festival, the World Kindness Concert, and sharing the stage with award winning artists like Shari Ulrich and Bill Sample.
Along with all the above, Ranj has found time to record three cd's, "Simple Man", Found a Way Home", and recently "The Man Cold". All his songs are great, he writes beautiful love songs, right from the heart, and demonstrates a wicked sense of humour in his song "The Man Cold" from the cd of the same name.
Thurs November 15th.- Chinese Bunkhouse at Britannia Shipyard
"Ivan Boudreau" Showtime 7.30pm
Ivan Boudreau has been a professional musician, songwriter, and wandering minstrel for over 45 years, a true Road Warrior on the music highway. With deep roots in Nova Scotia, youthful years in Boston and Toronto, Ivan now calls BC home. He has a driving passion for stories and songs that are honest and heartfelt.
He delivers well-crafted songs that are sensitive, thought provoking and unique; with hauntingly beautiful melodies that take his audience on an emotional musical journey. My favorites are songs "Streets of Sin", "Remember Me", and "What if Jesus was a Beggar".
Ivan is very active in songwriting circles and produces two monthly songwriter series events, called SongStage , which offers songwriters a listening environment to showcase their works in the Greater Vancouver area. He is always ready to talk about the art & craft of songwriting!