Sat Sept. 29th & Sun Sept. 30th - Chinese Bunkhouse at Britannia Shipyard
"Cultural Days with Steveston Folk Guild " Showtime 2-4.00pm
Steveston Folk Guild is hosting a live concert as part of the Richmond Cultural Days Celebration.
When: Saturday & Sunday, September 29th & 30th
Where: Chinese Bunkhouse at Britannia Shipyard
Time: 2.00-4.00pm
Greg Meloche 2.00pm
Greg Meloche has been performing in Richmond since 1995 as a regular at the Steveston Folk Guild and community events including the Salmon Festival and Musical Expressions. He combines acoustic guitar and bodhran (Celtic drum) with the deep, smooth voice of a troubadour somewhere between Stan Rogers and Roger Whittaker. Greg performs original compositions and an eclectic mix of songs from traditional folk and country to 50's and 60's pop-rock. From the weird to the wonderful, expect the unexpected when Greg takes the stage.
Gary Poole 2.40pm
Gary writes great songs and performs them with style and humour. Songs that reflect his personal take on life and its complex situations, and others are remarkably simple with an inside look at family and friends. Gary harkens back to the music scene of the 70"s when life appeared to be simpler. A Steveston native, Gary always loves to return to the Guild, and we are pleased to have him back.
Dave McArthur and Bob Blendell 3.20pm
Dave is the founder of Steveston Folk Guild which operates at Britannia Shipyard in Steveston. A Steveston resident also, Dave performs a variety of folk songs, a few country songs, sad songs about losing the farm and love gone wrong. He likes to tell stories about the songs, which means you get to learn some history along the way. Accompanying Dave is Bob Blendell on bass guitar. Bob likes to play all and anything, he loves folk, country, and rock and roll, he likes to laugh and joke. Good stuff Bob.
Thurs October 18th. - Chinese Bunkhouse at Britannia Shipyard
"Ranj Singh" Showtime 7.30pm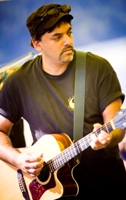 "If world famous Indian ghazal singer Jagjit Singh were to share a hookah with Neil Young, the result would be Indo-Folk Music." In the mid 80's, Ranj started his career performing with many folk-Punjabi and Hindi artists in the Vancouver area. In the 90's he helped form, (along with his talented brothers) the group "Dal Dil Vog" (a.k.a. DDV). This group went on to win numerous awards and performed with artists such as Jan Arden, 54-40, Mathew Good, and also performed live on Much Music. DDV's style of bhangara/rock music led to tours throughout North America, and India, as well as 3 videos on MuchMusic, and one on MTV Asia.
Recent notable performances have included the Harrison Festival of The Arts, Vancouver's Dragon Boat Festival, CBC's Musical Nooners summer concert series, Steveston Folk Guild, the Surrey Fusion Festival, the World Kindness Concert, and sharing the stage with award winning artists like Shari Ulrich and Bill Sample.
Along with all the above, Ranj has found time to record three cd's, "Simple Man", Found a Way Home", and recently "The Man Cold". All his songs are great, he writes beautiful love songs, right from the heart, and demonstrates a wicked sense of humour in his song "The Man Cold" from the cd of the same name.
Thurs November 15th. - Chinese Bunkhouse at Britannia Shipyard
"Ivan Boudreau" Showtime 7.30pm
Ivan Boudreau has been a professional musician, songwriter, and wandering minstrel for over 45 years, a true Road Warrior on the music highway. With deep roots in Nova Scotia, youthful years in Boston and Toronto, Ivan now calls BC home. He has a driving passion for stories and songs that are honest and heartfelt.
He delivers well-crafted songs that are sensitive, thought provoking and unique; with hauntingly beautiful melodies that take his audience on an emotional musical journey. My favorites are songs "Streets of Sin", "Remember Me", and "What if Jesus was a Beggar".
Ivan is very active in songwriting circles and produces two monthly songwriter series events, called SongStage , which offers songwriters a listening environment to showcase their works in the Greater Vancouver area. He is always ready to talk about the art & craft of songwriting!