Calendar
Show time 7:30 pm, 3rd Thursday of each month. Tickets $10.00 at the door.
Chinese Bunkhouse
Britannia Shipyard, 5180 Westwater Drive, Steveston BC
Click HERE for a map of the location.
Thursday June 21st. - Chinese Bunkhouse at Britannia Shipyard
"Gary Poole" Showtime 7.30pm
Gary Poole is a songwriter with an eye and ear for the journeys of our lives. His songs explore a world that is sometimes wildly complex and sometimes beautifully simple. In the early stages of his career, Gary was a creative force behind the group Marilyn, Hudson, Carr and Poole, writing their hit singles "For Today" and "Is it any wonder?" Today, Gary is writing and performing with the same passion that defined him back then. His latest writing, featured in the collection "Songs for a Curious World" runs the full gamut from grandchildren to the nature of truth in today's world. A Steveston native, Gary always loves to return to the Guild, and we are pleased to have him back.
Thursday July 19th - Chinese Bunkhouse at Britannia Shipyard
"Fraser Henderson" Show time 7:30 pm
"Every story has a song, every song a story" Fraser-Henderson is Barb Fraser and Dennis Henderson, a singer-songwriter duo, who perform original folk/pop/roots music in Vancouver, BC. Music has always played a large part in both their lives. Over the years they each have performed, toured, and recorded in venues big and small. Sparks flew when they met in an original rock/pop dance band in Vancouver. Their personal and musical lives blended and -voila!- the musical duo Fraser-Henderson was born. Their music is inspired by the landscape of life- travels, the people they meet, and the stories that come their way.Through songwriting they explore and express the thoughts and feelings that we all share - everyday gain and loss, love and heartache, and the awe and respect that springs from travelling this green earth..
Thursday August 16th. - Chinese Bunkhouse at Britannia Shipyard
"Griffin and Holdstock" Showtime 7.30pm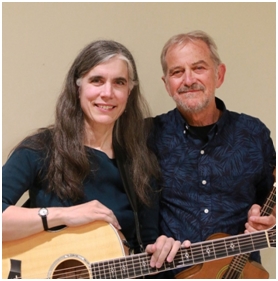 SFG welcomes Griffin and Holdstock. Kathy Griffin and Roger Holdstock, together have a wealth of musical background. They have great harmonies, and their voices blend so well. Some of you will remember Roger, a founding member of the folk band Fraser Union, who along with Barry Truter and Henk Piket, have graced these fair shores many times. Kathy has a background in barbershop quartet, with the Thunderbirds Barbershop Chorus. Together Kathy and Roger have successfully honed their harmonies to demonstrate what a varied repertoire of songs they have. You will be in for a treat. Be early.
Thursday September 20th.- Chinese Bunkhouse at Britannia Shipyard
"Simon Kempston" Showtime 7.30pm
SFG welcomes Simon Kempston, "one of Scotland's best songwriters"(The Sunday Herald) and leading fingerstyle guitarists, performs music is steeped in the history of the folk, blues and celtic traditions and is complemented by Simon's rich, powerful and compelling clipped vocal style. His unique talent shows through in his thought-provoking, evocative, original songs portrayed in a wonderfully intimate setting. His beautifully crafted folk-tinged material showcases his incredible, distinctive and intricate fingerstyle guitar work - an exciting blend of the folk-baroque, blues and classical styles, and his gently nuanced, compelling tenor vocals. An inspiring, poetic lyricist, Simon's live performances are intense and impassioned, the subject matter chiefly Scottish, yet with universal appeal. Simon will be playing songs from his latest cd "Vanishing act: and from "Onward she travels". This special Vancouver concert is not to be missed. 'Stunning talent'(STV). 'Beautiful tunes, infinitely talented' (BBC Radio 3).