Calendar
Show time 7:30pm, 3rd Thursday of each month. Tickets $10.00 at the door.
Music at the Shipyard concerts start at 6.30pm
Chinese Bunkhouse
Britannia Shipyard, 5180 Westwater Drive, Steveston BC
Click HERE for a map of the location.
Thursday July 21st. Chinese Bunkhouse at Britannia Shipyard
"Music at the Shipyard series" Show time 6:30pm
"Chapter 11" returns to SFG
"Chapter 11" is a Metro Vancouver based acoustic duo with Bob Collins and Rob Sheridan both sharing guitar, vocal and harmony duties. These guys are great friends and equally great musicians, and have been singing together for over 30 years and always have infectious fun on stage. Their style relects a wide range of songs and a trip through Memory Lane with songs from the Mersey Beat period to Simon & Garfunckle, and many more surprises.
Their eclectic set comprises folk, pop and rock songs, along with some of their originals, they are all tailored to show off their tight vocal styling and acoustic guitar sounds. You will be in for a good time, with lots of memorable songs (as in blast from the past), and many different songs that the boys put their individual twist too. Check in to www.chapter11music.ca for up to date venues around town.
Thursday August 18th. SEINE LOFT at Britannia Shipyard
"Music at the Shipyard series" Show time 6:30pm
"Rollin & Tumblin" "from Country to Western Swing."
"Rollin' and Tumblin"are James Lillico and Dave Paterson, two good friends who play country blues, country and western swing. With a repertoire that includes a wide variety of musical styles that meld into 'their own thing'. Ranging from Robert Johnson to Hank Williams, to Hoagy Carmichael, these guys will swing you along on awonderful journey from 1920's to the early 60's. With James on stand up bass and Dave on vocals, guitar, and harmonica, the combination is eclectic, and you will be in for a GREAT time.
Thursday September 15th Chinese Bunkhouse at Britannia Shipyard
"Ranj Singh" Show time 7:30pm
"Ranj returns returns to SFG"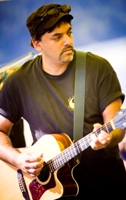 "If world famous Indian ghazal singer Jagjit Singh were to share a hookah with Neil Young, the result would be Indo-Folk Music." Ranj has a long career performing with many folk-Punjabi and Hindi artists in the Vancouver area. In previous years he performed with "Dal Dil Vog" which led to tours of North American and India. The crowd goes wild when the indo beat comes through....be there. Ranj has played the Guild many times with his legendary band The Discriminators. Recently Ranj has returned to music as a solo artist, following his recovery from a serious vehicle collision. He;s stronger than ever and happy to be pursuing his passion for music again, and often collaborates with former band members and musicians to meet the needs of a given venue or event. His new cd "The Man Cold" is out and is full of great new song...you won't be disappointed with this performance.