Calendar
Show time 7.30pm, 3rd Thursday of each month. $12.00 at the door
Chinese Bunkhouse at Britannia Shipyard
Thursday March 16th Murakami Boathouse at Britannia Shipyard
Ranj Singh
We hail the return of Ranj Singh, who makes music with a distinct Indian-Western flair. He draws on his love of rock music and his own heartfelt lyrics. He refers to his unique blend of music as "Indo-Canadian Folk".Ranj works hard performing over 200 shows a year as a solo artist, and with his unique voice and accompanied by his 2 alternate-tuned 12-string guitars, Ranj's genre of Indo-Canadian Folk Music is melodic and soothing. It is a combination of subtle Indian melodies with Western Folk and classic covers. Ranj is at the top of his game.
Thursday May 18th - Chinese Bunkhouse at Britannia Shipyard
Brian Robertson & Michael Burnyeat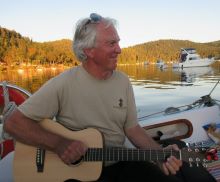 Brian Robertson has been called "a genuine BC treasure" for his "well-crafted and entertaining songs" about the west coast, as well as some that reflect more universal themes of love, travel, social justice and the blues.
His music rings with a real depth, and derives from a long and varied working life, and extensive world travels and interests. Together with Michael Burnyeat, a two times BC Champion fiddler, Brian and Michael will leave you spellbound with their interpretation of some of the hottest fiddle tunes you will ever hear.
Thursday June 15th - Chinese Bunkhouse at Britannia Shipyard
Tom Rawson & Ellen Van der Hoeven
Welcome back Tom & Ellen. This international duo of Ellen van der Hoeven, from Vancouver BC, and Tom Rawson, from Orcas Island WA are armed with banjo, mandolin, penny whistle, and other weapons of mass delight.
Ellen and Tom love to strike up hootenanny fun on both sides of the 49th Parallel. Their humorous stories, user-friendly songs, and acoustic folk philosophy are guaranteed to have you singing along in no time and to leave you smiling. Tune up your vocal chords; you'll need 'em!