Thurs February 20th.. - Chinese Bunkhouse at Britannia Shipyard
"Ranj Singh" Showtime 7.30pm $10 at the door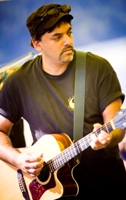 Ranjit "Ranj" Singh makes music with a distinct Indian-Western flair that draws on the singer-songwriter and self-taught guitarist's love for rock music and heartfelt lyrics. He refers to his unique blend of music as "Indo-Canadian Folk".
Ranj recorded a solo album titled "Simple Man" in 2008. He later brought together a group of talented musicians to form his next band, "The Discriminators", with whom he recorded and released 2011's "Found a Way Home". The album delivered thoughtful lyrics and music that were inspired by Ranj's life and his legendary mentors, Neil Young and the late Indian ghazal singer Jagjit Singh.
More recently Ranj has returned to music as a solo artist, following his recovery from a serious vehicle collision. He's stronger than ever and happy to be pursuing his passion for music again, often collaborating with former band members and other talented musicians to meet the needs of a given venue, event, or project.
In 2015 Ranj released his third album, the acoustic "The Man Cold" featuring his signature melodies and distinctive "up-stroke" riffs from his 12-string guitar.
Thurs March 19th. - Chinese Bunkhouse at Britannia Shipyard
St. Patrick's Day
We are doing something different for this month's concert.
Dig out your old green bonnet or scarf and join us.
With regulars Greg Meloche, Dave McArthur, John O'Sullivan, and Jimmy Mulgrew (Irish Jimmy), we will
give you some fine Irish songs from the Emerald Isle.
Greg sings and plays a variety of songs with East Coast and Celtic origins. He has a great voice and a wicked sense of humour.

Dave has a strong repertoire of Celtic based songs, and freely
admits knowing many sad songs of trial and pain. (if there is a song about misery, he knows it).

John, the man with the strong voice has many songs of his Irish roots ("Fields of Athenry"), and many songs from the tapestry of Canada and the USA folk scene.


Irish Jimmy hails from Derry in Ireland, and passionately sings songs of his hero's such as Christy Moore, Paddy O'Reilly, and the Dubliner's.

This promises to be a great night, you will hear a great diversity of songs and musical styles, which will make St. Patrick's Day at SFG a memorable event.
Thurs April 16th. - Chinese Bunkhouse at Britannia Shipyard
"Sahara Jane" Showtime 7.30pm $10 at the door
Sahara Jane returns to SFG. This very talented musician is kicking off her West Coast tour at SFG. A versatile musician who has graced stages from Beijing to Bombay, from the Fundy shore to the south of France. She is a songwriter and performer from Nova Scotia with an on-stage presence which audiences find disarming and spellbinding.
Learning in India for over a decade, Sahara has returned to the Canadian stage with her long-time musical collaborator (and now husband), Ken Shorley, and yes, a new cd aptly named "Between Worlds".
Sahara describes their sound, and the intentions behind it, as genre fluid. Her Indian and Persian influences enhance her soulful songs, and down to earth folk style.
Many of you may remember Sahara in earlier days when she first played SFG along with sister Kamilla, I remember those days fondly. Don't be late for this show, we will have a full house.
Thurs May 21st. - Chinese Bunkhouse at Britannia Shipyard
"Scott Cook....Roots Balladeer" Showtime 7.30pm $10 at the door
A roots balladeer with a rare personal warmth, Canada's Scott Cook has managed to distill stories collected over a decade of near-incessant touring across Canada, the USA, the UK, Europe, Asia, Australia, and recently New Zealand, into straight-talking, keenly observant verse. He brings humour, a disarming honesty, years of roads, and a deep love of humanity to his songcraft and storytelling.
He is totally at home alone on stage, accompanying himself with fingerstyle guitar and clawhammer banjo. Cook's songs are true stories set to music, drawing on influences from folk, roots, country, soul, and blues. He has made his living playing music full-time since 2007, and despite all the hard miles, he still believes that songs can change your life, and your life can change the world.
His resume shows a certain commitment to his craft:
• Averaged over 160 shows and a dozen festivals each year for the last ten years.
• Six albums to his credit.
• Performed and showcased at over 800 different venues and over 150 festivals in Canada, the United States, Europe, Asia & Australia.
• 2014 Canadian Folk Music Awards nominee for Best Emerging Artist.
• Won the Folk and Acoustic category in the 2013 UK Song writing Contest.
• Won Male Artist of the Year at the 2012 Edmonton Music Awards.
• Sold over 7000 albums independently.

.